Oenovideo: 38 nominated films out of 128 films from 19 countries in competition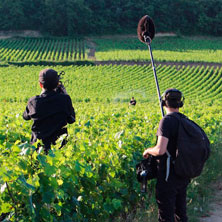 The programme: avant-premieres screening, unseen films, conferences, art installation. A great number of documentaries, fictions in short, medium or full-length films. A true immersion in the world wine culture.
> Opening of the Festival: Thursday, June 28 at 16 pm.
The Oenovideo Festival in Champagne will also provide, between films projections : wonderful moments of conviviality and friendship, a photos exhibit in Reims city, the welcome of the Champagne Growers and Champagne Houses, the sharing of "La Champagne en fête", moments shared by festival-goers, film directors, films producers and photographers around wines tastings...
Come and join us for this experience, and vote for the Audience Award film!
> Announcement of the Award list of the best 2018 films: Sunday, July 1st at 12 am